Commencement 2021
Graduate School of Education and Human Development
2021 School Celebration
2021 GSEHD Graduation Celebration Program
2021 GSEHD Doctoral Hooding Program
Opening and Welcome

Dr. Ed Vest, GSEHD '72

Dean's Remarks

Dr. Michael J. Feuer, Dean of the Graduate School of Education and Human Development

Keynote Speaker

Dr. Vicki A. Brown, GSEHD '15, Chief Learning Officer at the U.S. Department of the Interior

Student Speaker

Wendy Pintado, GSEHD '21, Master's in Higher Education Administration

Presentation of Graduates (graduates recognized by department in the following order)

Degree level
Program
Last name (alphabetical order)

Congratulations Messages
GW Commencement Celebration
We invite you, your family, and your friends to join us for the university-wide Virtual Commencement Celebration, which you can watch on the GW Commencement site on Sunday, May 16, 2021, at 1:00 p.m. E.T. The video will also be available to watch at your own time after 1:00 p.m. E.T.
Meet GSEHD's 2021 Graduates
Dear GSEHD Graduate,
I've said it before, and I'll say it again—it's an understatement to say these are extraordinary times. In any other year, you would be walking across a stage in the GW Smith Center, shaking my hand, hearing the cheers of your faculty and staff, waving to your fellow students and family and friends, and smiling for the photographer. You would be hugging your advisor and taking selfies with classmates. The applause for your accomplishments would shake the rafters.
While much in life has changed, your commitment to making the world a better place has not. You came to GSEHD to hone your skills and gather new tools to face the many complex issues that await you as you continue your professional journey. Now maybe even more than ever, your passion to advance the public good is what gives us all hope for the future. Whether you plan to teach, advise, counsel, support, or lead, your expertise, creativity, flexibility, resilience, perseverance, and dedication will make a difference.
We wish we could be together to celebrate the old-fashioned way. But even though we have to be socially distant, we are emotionally close. We send you our warmest wishes and honor you from afar.
I look forward to the time when we can celebrate the class of 2021 in person--with the pomp and circumstance you have earned and so deserve.
Congratulations and my very best wishes for continued good health and success.
Michael Feuer
Dean, Graduate School of Education and Human Development
Awards
Dean's Outstanding Alumni Achievement Award
Olivia Ngadjui, PhD, LPC
Dr. Olivia T. Ngadjui (she/her) is a rising counselor educator and cross-cultural relations enthusiast. A native of southeast Washington, DC with a Cameroonian background, she earned her Master's in Clinical Mental Health Counseling from the George Washington University. Dr. Ngadjui is the current Parliamentarian for the Association for Multicultural Counseling and Development, where she enjoys promoting community through demystifying Robert's Rules of Order. Last year, she received the Multiculturalism and Social Justice Advocacy Award and was invited as a 2020 Emerging Leader for the Rocky Mountain Association for Counselor Education and Supervision. Whether in session, in the classroom, or in her daily life, she works to promote and advocate for an equitable environment.
In December 2020, she successfully defended her nationally funded dissertation entitled "Shaking Up The Room: The Process of Professional Identity Development of Black Doctoral Students in Counselor Education'' within the PhD in Counselor Education and Counseling program at Idaho State University. In her spare time, she enjoys reading for leisure, baking non-dairy desserts, taking on art projects and tending to her family of plants.
Counseling and Human Development

Chi Sigma Iota Outstanding Master's Counseling Student Award
Aliya Subhit

Chris Erickson Mental Health Service Advocacy Award
Esette Negussie

Clemmont E. Vontress Cross-Cultural Award
Sahaj Kohli

Donald C. Linkowski Award for Outstanding Scholarship in Rehabilitation Counseling
Brittany Silver

Harry Grubb Detwiler Memorial Award
Mahogany Persip

Curriculum and Pedagogy

Corey Hansen Award
Patrice Splan

Elementary Education Model Program Award
Max Adamo, Britta Buchanan

Sylven Seid Beck Elementary Education Prize
Pary Aflaki, Allie Grossman

Educational Leadership

Doris and Sam Buchalter Museum Education Prize
Kendall I. Brinson

Dorothy A. Moore Award in International Education
Julia Brunner

Jere Trout Award in Educational Technology Leadership
Tiffany Moy

Marcella Brenner Museum Education Award
Christiana E. Stawasz

Nakyuin Shin International Education Award
Janiel Slowly, Lexus Bivins

Rossetta A. and Sadie B. Feldman Fellow in Museum Education
Kaylie E. Schunk

Human and Organizational Learning

Leonard Nadler Leadership Award
Louis Choporis, Jessica Bonacquisti, Courtney Powell

Special Education and Disability Studies

Bertice Cornish Award in Early Childhood Special Education
Nolan Day

Bilingual Special Education Award
Sandra Duval

Perry Botwin Award in Special Education
Harley Mitchell

Rita Ives Award
Kathy Lane
Our Speakers
Keynote Speaker
Dr. Vicki A. Brown, GSEHD '15
Chief Learning Officer at the U.S. Department of the Interior
Dr. Vicki A. Brown, a skilled strategic leader with a global perspective, is the Chief Learning Officer and Executive Director of the Office of Strategic Employee and Organization Development for the Department of Interior (DOI) in Washington, DC. She serves the Department's senior advisor on strategic learning initiatives, talent, and workforce development.
Her executive responsibilities include managing a multi-million dollar budget and providing leadership and oversight of all education and training programs delivered by DOI University and DOI Acquisition Institute, oversight of the Federal Consulting Group and an extensive online learning delivery program via the DOI Talent learning management system for more than 70,000 employees world-wide through of staff of 4 directors and 28 learning professionals.
Student Speaker
Wendy Pintado, GSEHD '21
Master's in Higher Education Administration
Wendy Pintado is graduating with her Master's in Higher Education Administration. She received her Bachelor of Science in Family Science from the University of Maryland, College Park in 2018 where she was awarded La Raza Unida award for her significant contributions towards the advancement of the Latinx community both on campus as a student leader and in her individual capacity as a volunteer and mentor. Currently, Wendy is working for Collegiate Directions Inc., a nonprofit that guides first generation and low income students in the Maryland and DC areas through the college application process and supports them until they graduate college. She uses her experience in college preparatory programs to manage behind-the-scenes work for the organization. Wendy's contributions include assisting in the improvement of the recruitment process, data collection, and scholar engagement, as well as the facilitation of yearly events.
Prior to her current role, she worked with various nonprofit organizations including Achieving Collegiate Excellence and Success and the Latino Student Fund. Wendy is passionate about breaking down barriers for students who are pursuing higher education. She strives to ensure that students from marginalized communities maintain a strong support system through specialized programming, mentorship, and tutoring. Wendy hopes to use her Master's to become a college advisor to keep students engaged, on track, and optimistic about their future.
Welcome to the Alumni Community!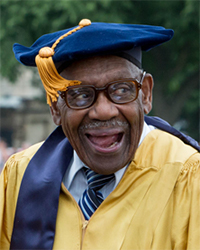 Dr. Reggie Grier, GSEHD '79
Today you officially join the GSEHD alumni family, a network of leaders, educators, and scholars spanning the globe. Your connection to GSEHD is just beginning.
For more than two decades, Dr. Ed Vest and Dr. Reggie Grier have participated in the GSEHD graduation celebration by opening the ceremony, distributing gifts, and making sure to shake every graduate's hand. This year they welcome you virtually as our newest alumni.
Congratulations Class of 2021 from Ed Vest, Reggie Grier, and the GW Alumni Association.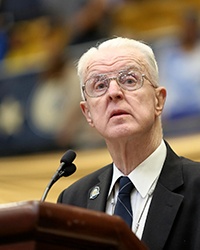 Dr. Ed Vest, GSEHD '72
Hail Alma Mater
To thy spirit guiding,
Knowledge thy closest friend
In its strength abiding,
Pledge we fidelity
Ne'er its place resigning,
Hail thee George Washington!
Let's Celebrate!
#GSEHDgrad #GWCommencement